Vinyl Boat Lettering
Do it yourself boat lettering and save money! We make it easy.
Boat Names
Naming your boat is a great way to add a personal touch. Use our boat name tool to create a unique design that matches the character of your boat.
Hailing Port
What is a hailing port? Traditionally it is the home port of your boat, however, in recent days it can simply mean your home town.
About
All lettering is pre spaced and covered in easy to apply transfer tape. Our vinyl is fully compatible with boat gel coats. We use 6 year outdoor rated vinyl suitable for sustained outdoor placement. See our help section for more information.
Boat Registration Numbers state compliant vinyl registration numbers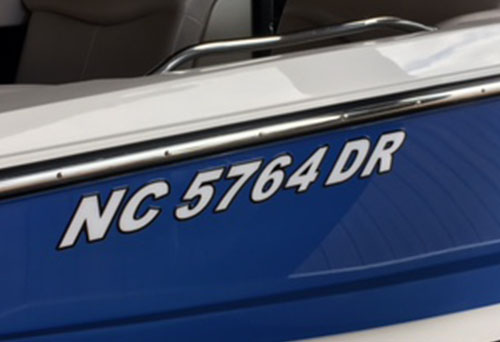 Every single boat in the US needs state compliant boat registration numbers. We have a vinyl tool for that! Use our boat registration number tool to get a set of numbers for your boat at state compliant size.
Create Numbers
Fonts and Colors
Here we list out all of the colors we offer on the entire site.
Browse Colors
Browse through the fonts we have available.
Browse Fonts
Domed Boat Lettering
Have you seen it before? We can add a clear epoxy resin coating to your domed lettering to make a bubble effect. This is called under several names, doming, drip molding, bubble letters, and raised letters.
Create Domed Lettering

The graphics are great! They were easy to apply and having them domed was well worth the money. The turnaround time and shipping was super fast also!
I love these numbers they were easy to put on and look great. Thank you!
Good quality product and fast service.